Shek Leung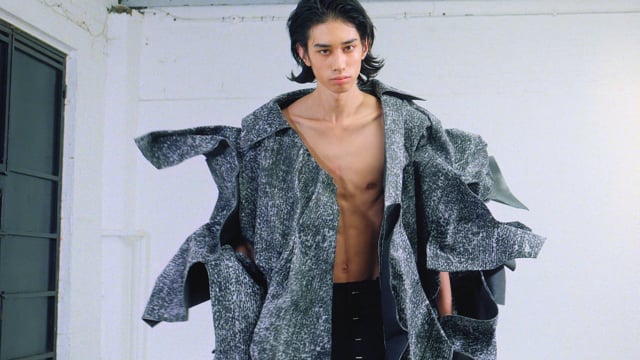 Shek Leung is a Hong Kong /London-based eponymous label founded by Shek Yen (Samson) Leung.

The brand has roots in Leung's family's close ties with the movie industry. Shek Leung bears the family history in moving images and narrative creation.
Instead of moving images, humanistic emotions and narratives are interlocked by the handmade craftsmanship, embodied on tangible fashion pieces. It is through tactile textures and sensitive details that Shek Leung bring this cinematic vision to life.

Shek Leung, through garment construction and textile development, translates intangible emotions, and narratives into tangibles. It is a brand that pursues altruism, sensuality and honesty through artisanal craftsmanship and subtle handcrafted details.

The artisanal craftsmanship and subtle handcrafted details give rise to a new version of masculinity - quiet masculinity - whereby we embrace our vulnerability with confidence and express quiet sensuality.

When everyone speaks, silence and serenity while scarce are so much more powerful and confident.
Showrooms & Contacts
Designer

Designer

Shek Yen Leung
Management

Ceo

Shek Yen Leung
Showrooms
Function
Contacts



Sales Department

Sales

Sales Department

P : +44 07463 070158

sales@shekleung.com
Multi-label Showrooms
Sales territories
Contacts
Showrooms
Dejima
14 rue Charles V
75004 Paris, France


Worldwide
Press Offices
Contacts
Press Office

Limitée Pr


352 Mare St Hackney Central
E8 1HR London, United Kingdom
contact@limiteepr.com
Shek Yen Leung
Designer

Shek Yen Leung completed BA and MA in Fashion at Central Saint Martins. Both of thegraduation collections were showcased at the CSM press show and London FashionWeek.

Whilst pursuing his education, Leungwas trained at Proenza Schouler, Craig Green, and Aitor Throup, and worked asAssistant Designer at Taro Horiuchi and Written Afterwards in Japan.
Selection of Multilabel Boutiques
---
RESERVED AREA
Showroom Online Access
---
Sign In