High Alchemy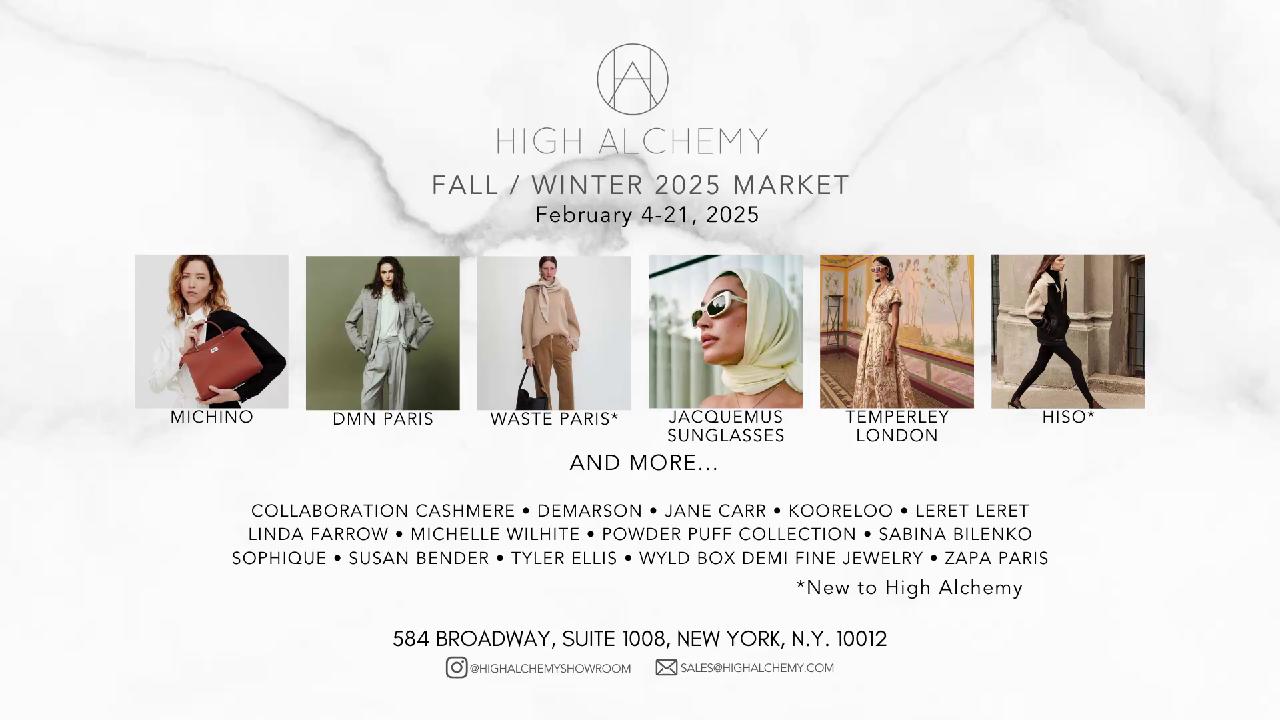 We Connect Emerging High-End Designer Brands with Luxury Retailers Around the Globe

Launched in 2017 by fashion leaders Susan Sokol and Suzanne Zikas, High Alchemy embodies the distinct chemistry between the founders – a seasoned mix of artful selling and strategic thinking. Together, these women represent a complete understanding of how the details and the big picture intersect in the ever-evolving marketplace of fashion.

The showroom enjoys a steady partnership with the best retailers around the globe who come to us for a sense of discovery, elevated level of service, incredible curation, and the taste level of High Alchemy's founders.


The brands we showcase are carefully selected to create a beautifully curated assortment that emphasizes each designer's point of difference.

Susan and Suzanne leverage their combined four-plus decades of experience in fashion and leadership along with their expertise in sales, merchandising and business strategies providing market insights, critical feedback, and support to each of their design partners as they closely collaborate on growing their businesses.

About the Co-founders:

Susan Sokol is a renowned business leader in the global fashion industry in the contemporary and luxury markets. Partnering directly with creative founders, Ms. Sokol has served in President positions and stewarded all aspects of the business for iconic fashion brands such as Calvin Klein, Donna Karan, Vera Wang and J. Mendel.

Suzanne Zikas is a brand-builder with a proven record of elevating a fashion company to the next level in terms of sales, visibility and profit by uniquely translating a designer's vision to the marketplace. Ms. Zikas has demonstrated impact on launching and growing brands in the global fashion industry through leadership roles at Rachel Zoe, Kaufman Franco, J. Mendel, Vera Wang and Donna Karan.

Collections
R.T.W. Women's
Sales Areas
Adriana Iglesias
Worldwide
Beatriz Camacho
North America
CDGNY by CD Greene
Worldwide
Fillyboo
North America
Jenny Packham
North America
No Pise La Grama
Canada, United States
Nour Hammour
North America
Ooon
North America
Raisa & Vanessa
North America
Sentaler
United States
Silk Roads by Adriana Iglesias
Worldwide
Sminfinity
North America
Stella Pardo
Canada, United States
Susan Bender
Worldwide
Waimari
North America
Women's Accessories
Sales Areas
Alepel (Shoes)
Worldwide
Demarson (Jewellery)
Worldwide
DeMellier (Bags)
North America
Ingrid Incisa (Shoes)
North America
Jane Carr (Scarves)
North America
Jeffrey Levinson (Bags)
Worldwide
Kooreloo (Shoes, Bags)
North America
Peracas (Jewellery)
North America
Poolside (Bags)
Worldwide
Sophique (Shoes)
North America
Baobab Collection
North America
The Lazy Poet
North America
Selection of Multilabel Boutiques
Videos
---
RESERVED AREA
Showroom Online Access
---
Sign In