Andydote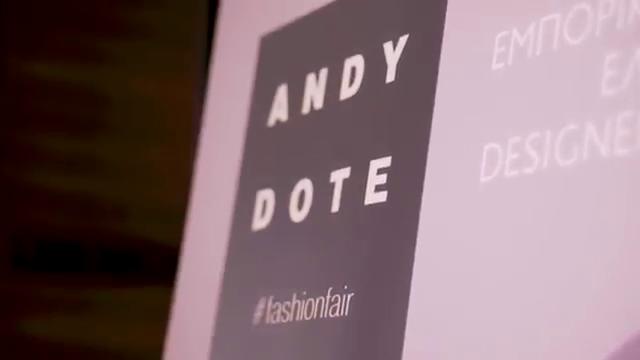 ANDYDOTE FASHION FAIR #5
Eighty greek designers make their fashion statements regarding jewelry, clothing, shoes, bags and accessories, and experiment with different materials to create unique style designs and patterns. Andydote fashion fair is just the beginning of a new reality in Greek fashion. The goal is to extend, strengthen and upgrade their partnerships, with the creation of a "platform" where Greek designers will access a communications network of all fashion operations and buyers in Greece and abroad.
The wholesale Andydote E-showroom is the one and only e-shop with its roots in Greece and action on abroad.

On the last day of our exhibition, Andydote Fashion Fair "eliminates" the impersonal nature of the Internet, and all those who love and care about fashion get closer to its creators. We are confident that the public is interested in knowing the way in which the high aesthetics of each designer can integrate into daily life, exchanging ideas and opinions with them, comparing quality and prices, and of course, buy their gifts! The elegant Artspace Athinais Culture is the space that will accommodate us for the fifth time. Its timeless value, unconventional look, as well as its nodal location, are the basic reasons that led to our choice. The building was created with a vision to be an innovative and vibrant multiplex in central Athens that stands for quality and freshness uniting culture and art with professional initiative, social activity and daily life.

E-Showroom
Andydote Fashion Fair is the innovative trade show which was created for staying indelible through the years with its aesthetics and quality. The wholesale Andydote E-showroom is the one and only e-shop with its roots in Greece and action on abroad. The main goal of Andydote e-showroom is to actively promote a constant and constructive dialogue between creation, wholesale and retail. We pride ourselves in representing some of the best established and up-coming Greek Fashion Designers and Greek fashion brands with a focus on high-end womenswear, menswear, accessories and shoes. Our vision is to expand our borders and meet with European and worldwide fashion buyers and store owners.

Videos
---
RESERVED AREA
Showroom Online Access
---
Sign In