The contemporary art fair Art Paris from April 7 to 10, 2022 takes place at the Grand Palais Éphémère on the Champ-de-Mars, presenting a selection of 130 modern and contemporary galleries from some twenty different countries.

The 24th edition of Art Paris, organised by France Conventions, is characterized by its commitment in favour of the environment with two themes, "Natural Histories" and "Art & Environment", combined with an innovative and sustainable approach to organizing an art fair. Since 2018, Art Paris has consistently supported the French contemporary art scene by inviting curators to lend a subjective, historical and critical eye on a selection of specific projects by French artists presented by participating galleries. Concerning the first theme, "Natural Histories: A Focus on the French Scene", independent exhibition curator Alfred Pacquement will share his perspective on the French scene with a selection of 20 artists from different generations, whilst considering the way in which these artists see the natural world and how plants and animals have once again found their place in the contemporary aesthetic. Instead, regarding the "Art & Environment" subject, independent exhibitor curator, environmental specialist and Art of Change 21 founder Alice Audouin, will select seventeen French and international artists from amongst the exhibiting galleries, whose work tackles environmental issues such as global warming and the loss of biodiversity.

The "Solo Show" sector will present seventeen monographic exhibitions spread throughout the fair. These solo shows allow visitors to discover or rediscover in depth the work of modern, contemporary or emerging artists. And also, "Promises", a sector focusing on young galleries created less than six years ago, provides a forward-looking analysis of cutting-edge contemporary art. Participating galleries may present up to three artists.

Art Paris is dedicated to making contemporary art accessible to the widest audience, offering some 80 guided tours of the fair as well as a number of specific tools, in particular its website which presents a virtual visit of the fair and filters allowing visitors to search for works by artist, price, geographical provenance and technique.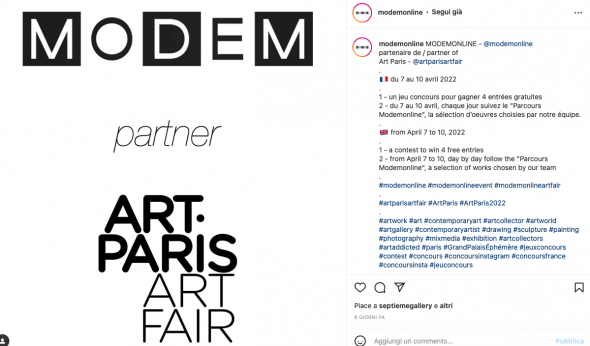 This year, Modem is partner of Art Paris. The Modem team will present every day a selection of works through the Instagram Account @modemonline.
Follow @modemonline to stay up to date with Art Paris 2022!

Art Paris - Exhibitors List.
April 07 to 10, 2022
Grand Palais Éphémère
Place Joffre, 75007 Paris